Direct Steam Retort
Direct Steam Retorts are designed to sterilize food under injected steam. The containers which could be used for this retort type are the rigid containers such as cans.
The cost of production is really low.
The working system is easy to operate.
Specification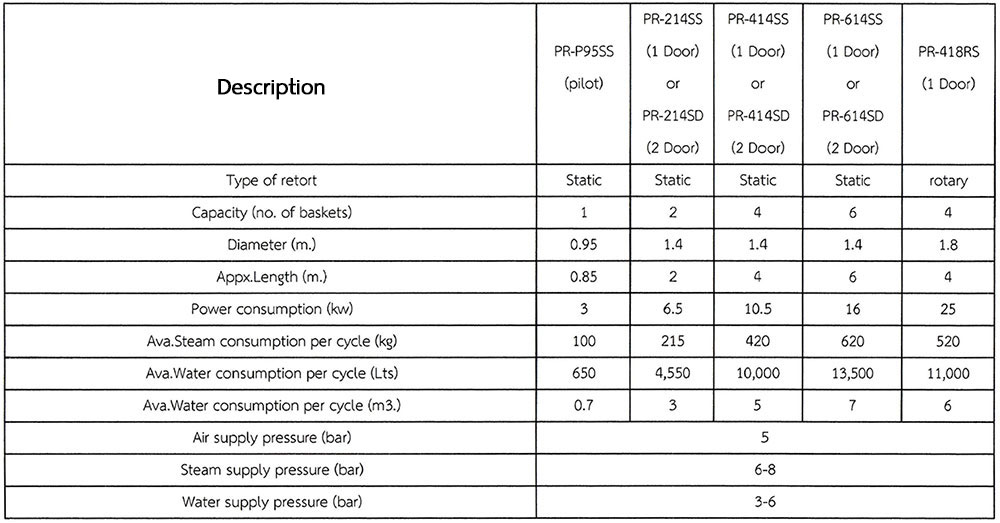 Retort Description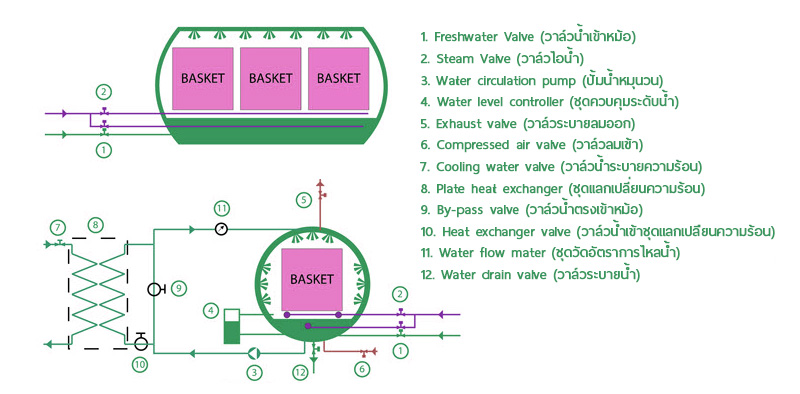 The PR Steam and Waterspray Overpressure Retort with Thermal Process Programmable Logic Controller (PLC) designed for thermalprocessing all kind of container such as Aluminum Retortable Pouches, Glass Jars, Plastic or Aluminum containers, etc. With directed steam injection, continuous waterspray from top and sides operation guarantee homogeneous heat distribution in the vessel during both sterilizing and cooling. Besides, temperature and overpressure are independently programmable, PID controlled and then recorded by circular chart recorder. Overpressure can be programmed at all time during the heating and cooling for reduced stress on the container seals. Programmes are stored in the memory of the PLC
Working Principle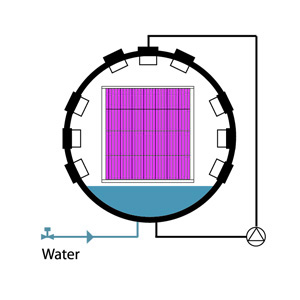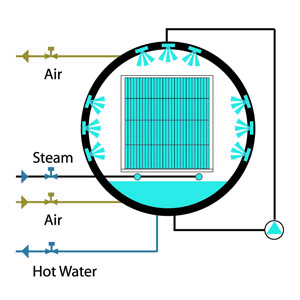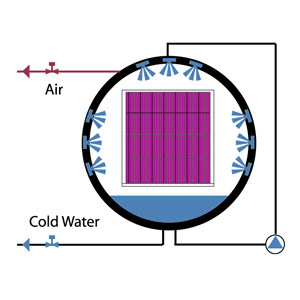 Water Filling
After loaded the baskets and closed the doors to begin process, freshwater (appx. 100 liters per basket) is filled into retort up to certain level (held under baskets), which is always controlled by water level controller. This water also could be pre-heated up to required temperature to prevent temperature drop of products at start of process.
Sterilizing
Once sterilized temperature and pressure pre-programmed have been reached, PLC would control both parameters constantly until the rest of sterilized time by mean of modulating air valve, steam valve, exhaust valve and water drain valve, meanwhile water pump is kept running to guarantee homogeneous temperature distribution inside retort.
End of cycle
Once temperature is cold and reaches to programmed value, water circulation pump is off, meanwhile exhaust valve, drain valve is fully opened to release pressure and water inside. Once pressure is fully released, safety door locking system is off allow door opening and unloading of baskets.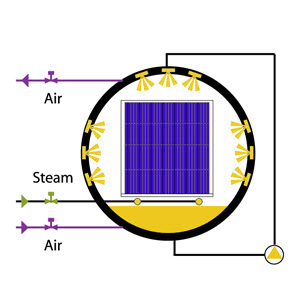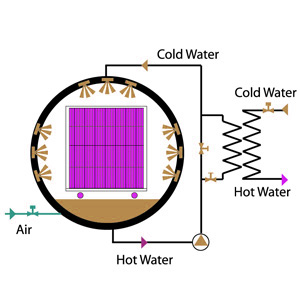 Heating
Once water is filled up to required level, circulation water pump is started automatically, meanwhile steam valve and air valve would also open to heat up and counter pressure products package inside (without deformation). The water circulated through numbers of spray nozzles would create mixing of cold air and steam, resulting fast and perfect homogeneous temperature distribution in retort.
Cooling
Once sterilization is finished, cooling phase is on automatically. At this moment, steam valve is closed, then water valve is opened to have cooling water from cooling tower flow through Plate Heat Exchanger, then take heat from sterilized water back to cooling tower. In this moment, pressure inside is maintained constantly awhile to hold product package not to deform or break in early cooling period. During cooling phase, multiple cooling steps is programmable to reach fine cooling in early stage and fast cooling in later stages. Certainly water pump is kept on running throughout process, besides, drain valve is opened if water level is excessive.
คุณสมบัติของเครื่องฆ่าเชื้อ
เครื่องฆ่าเชื้อของ บริษัท พีอาร์ ฟู้ด เทค จำกัด ใช้ฆ่าเชื้อโรคที่มีอยู่ในอาหาร โดยสามารถใช้ได้กับภาชนะบรรจุ อาหารทุกประเภท เช่น อาหารบรรจุถุง ขวดแก้ว พลาสติก กระป๋องเหล็ก กระป๋องอะลูมิเนียม และอื่นๆ
บริษัท พีอาร์ ฟู้ด เทค จำกัด ออกแบบและผลิตเครื่องฆ่าเชื้อ จำนวน 4 ขนาดมาตรฐาน มีความจุตั้งแต่ 2 ตะกร้า ถึง 8 ตะกร้า
โครงสร้างระบบท่อภายใน และอุปกรณ์เสริมทำด้วยสแตนเลสอย่างดีเป็นไปตามมาตรฐาน GMP พร้อมติดตั้งตัวควบคุมระดับน้ำ อุณหภูมิ ความดัน และอัตราการไหลของน้ำให้สม่ำเสมอตลอดกระบวนการ
ระบบการเปิด – ปิดฝา มีให้เลือกทั้งแบบ 1 ด้าน และ 2 ด้าน เป็นแบบหมุนล็อค มีตัวจับสัญญาณ (SENSOR) ตรวจสอบความสมบูรณ์ของการปิดฝาทั้งสองด้าน ซึ่งหากฝาปิดไม่สนิทเครื่องจะไม่สามารถเข้าสู่กระบวนการทำงานต่อไปได้
การออกแบบและการสร้างเครื่องฆ่าเชื้อทั้งแบบอัตโนมัติและกึ่งอัตโนมัติเป็นไปตามมาตรฐาน HACCP & GMP